Green Scene
Recycling & Waste Reduction
All resident and retail dining locations recycle their cooking oil through Buffalo BioDiesel.
In cooperation with the university's Facilities department, we recycle glass and plastic bottles, metal cans, cardboard boxes, office paper and toner cartridges.
TOMRA Uno reverse vending machines are in use across North Campus. The machines recognize, accept and sort all plastic recyclable containers, giving a bottle refund receipt for items that qualify under the New York Bottle Deposit program.
All of our Residential Dining Centers and several of our retail dining locations such as The Greenery, Pistachio's, The Tiffin Room, and The Center for Tomorrow use china plates and silverware which are washed and reused.
We encourage students, faculty and staff to use reusable containers through our Reusable Mug Program and Eco-Clamshells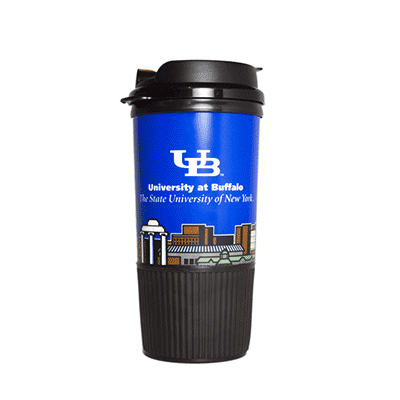 Reusable Mug - Use a UB CDS reusable mug for a soda or coffee refill and save 10%! Over 110,000 refills purchased.
Eco-Clamshell – Available for to-go meals at Goodyear and Governors residential dining centers, these reusable containers reduce over 120,000 disposable containers from seeing the landfill each year.
Energy & Water Conservation
Our Residential Dining Centers are trayless. By being tray-free we use less energy and water to wash each tray. It takes about ¼ gallon of water to wash just one tray. Research also shows that by being tray-free, the amount of food waste decreases by one ounce per plate. The average person throws 163 pounds of food away each year!
To conserve on water, spray heads that are used in our kitchen dish rooms to rinse dirty pots, pans and dishes are high efficiency low-flow. This reduces our water usage by more than 50 gal. per minute.
We have purchased wind energy certificates to offset the carbon emissions from the power it takes to operate our public websites.
Ecosystem Preservation
Our locations use environmentally friendly dish soaps and cleaning sanitizer.
We compost kitchen & post consumer food scraps which produces a soil amendment that is used in landscaping across UB and in community gardens across Western New York. We have composted over 1.5 million lbs. of food scraps and turned it into 600,000 lbs. of soil amendment!
The new Residential Dining Center will house its own state-of-the-art food decomposer system which will grind and dehydrate kitchen food scraps and post consumer waste.