GET Reservations
Note: The GET app has an updated android version available on the Google Play Store on 8/26/20. This update fixes issues with authenticating for the first time when you use DUO.
More information about GET is featured on our Manage GET Account page.
Instructions

1. Open your GET app and scroll to the Order or Reservation tile. Tap on Start and Order/Reservation.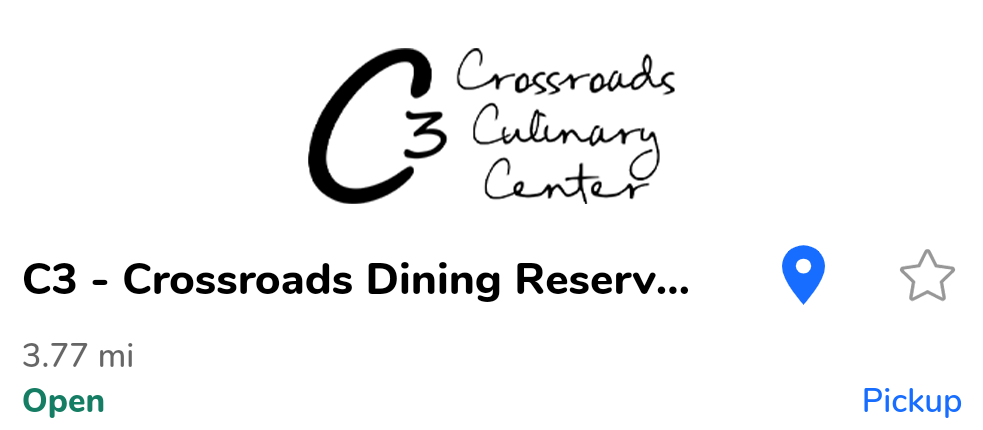 2. Scroll down to C3 – Crossroads Dining Reservation. You may see it Open or Closed; You can make a reservation when it is Closed and can reserve a day and time up to 6 days in advance.
Tap on the logo to continue.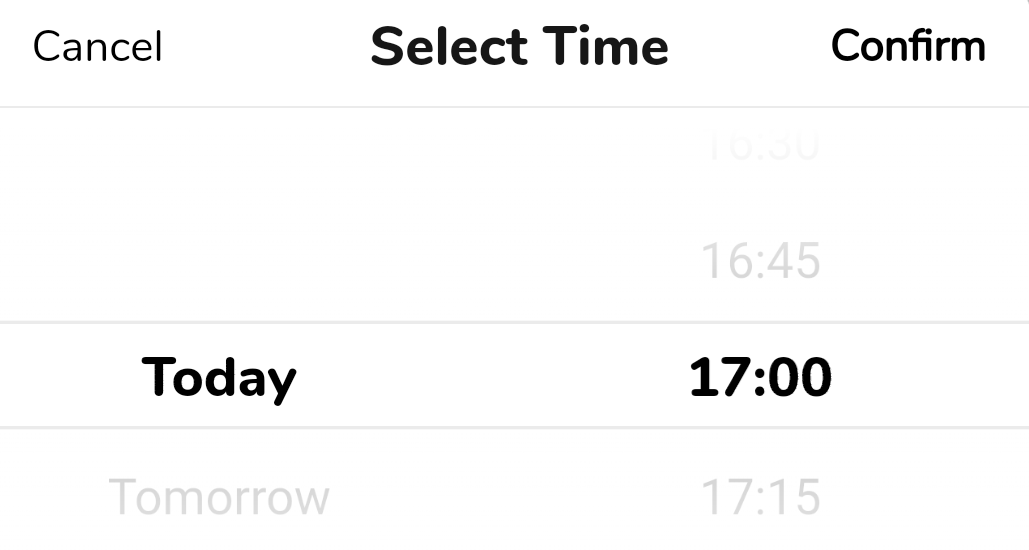 3. Select your day and time for the reservation. You may see the time in 24 hour time. If so, subtract 12 from the time. (In the example, 17:00 is 5 pm.) Then tap Confirm.
Do NOT use ASAP if you see it as an option. It will make your reservation more confusing.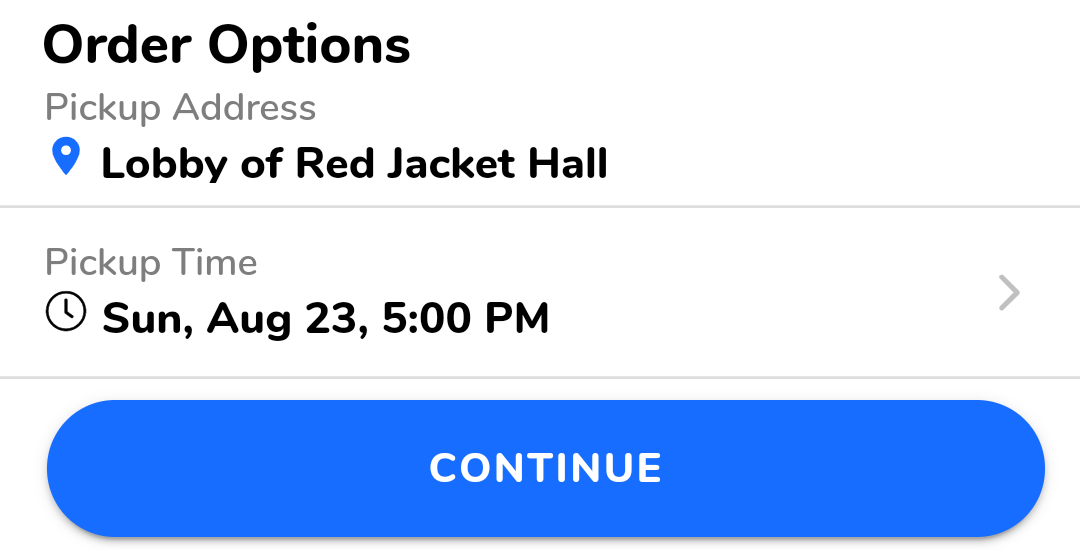 4. After selecting your reservation time tap the Continue button.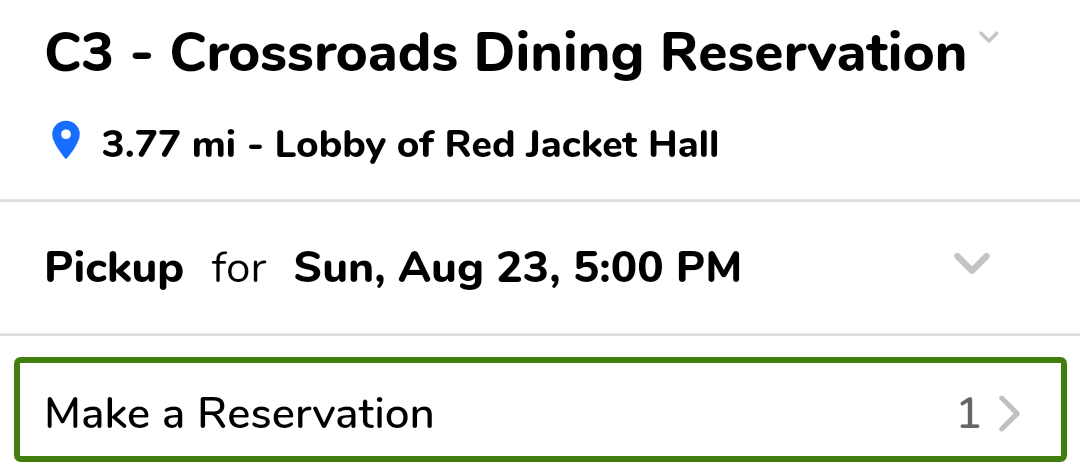 5. On the Full Menu page, you will see only one option. Tap "Make a Reservation."

6. Now tap the Reserve a dine-in time item box with a cost of 1 Meal.

7. Now tap the Add 1 Meal button. Do NOT change the quantity from 1.

8. Now tap on the View Cart button.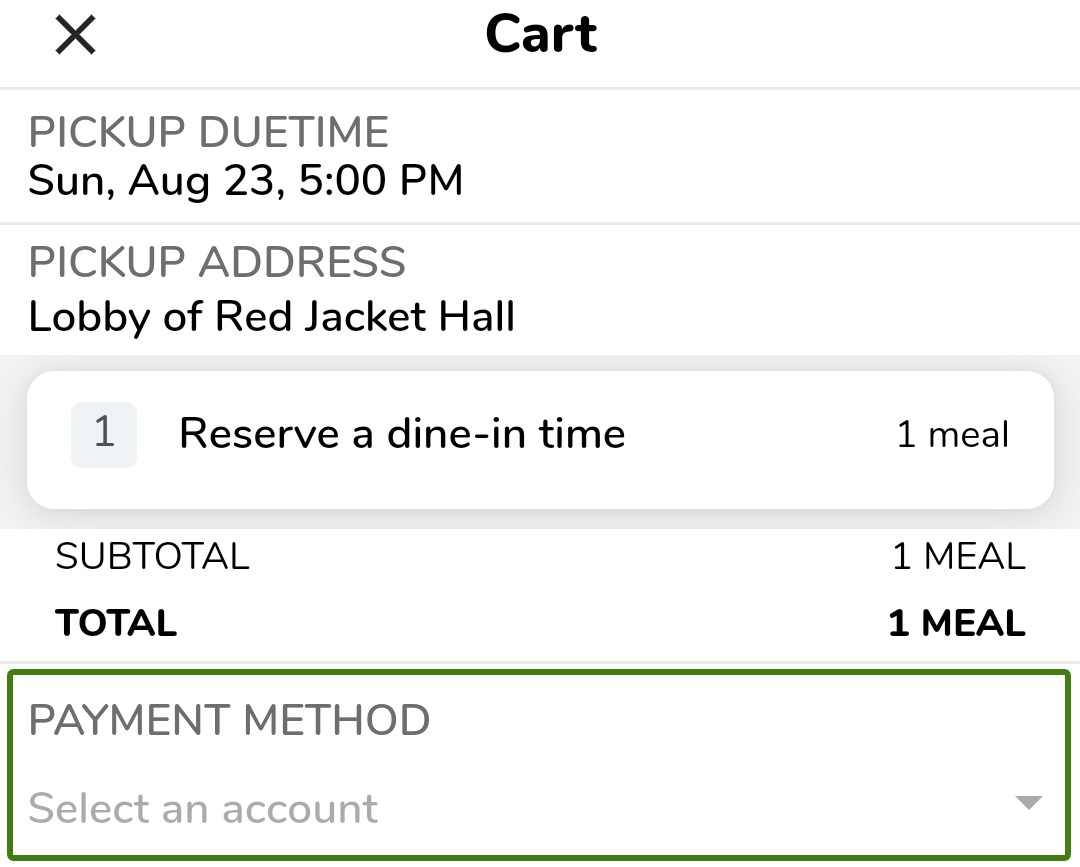 9. In your Cart, verify all the information then tap on Payment Method.
10. You will see a Flex Plan (07, 10, 14) or a Reservation Plan. If you have a Flex Plan, you will tap on it. If you have a Dining Point only plan, you will tap on the Reservation Plan.
Note: if you reserve with a Reservation Plan, you will actually pay for your meal at the dining hall. If you pay with a Flex Plan, your meal will automatically be charged 5 minutes before your reservation time.

11. The final step is to tap on the Schedule Order 1 Meal button.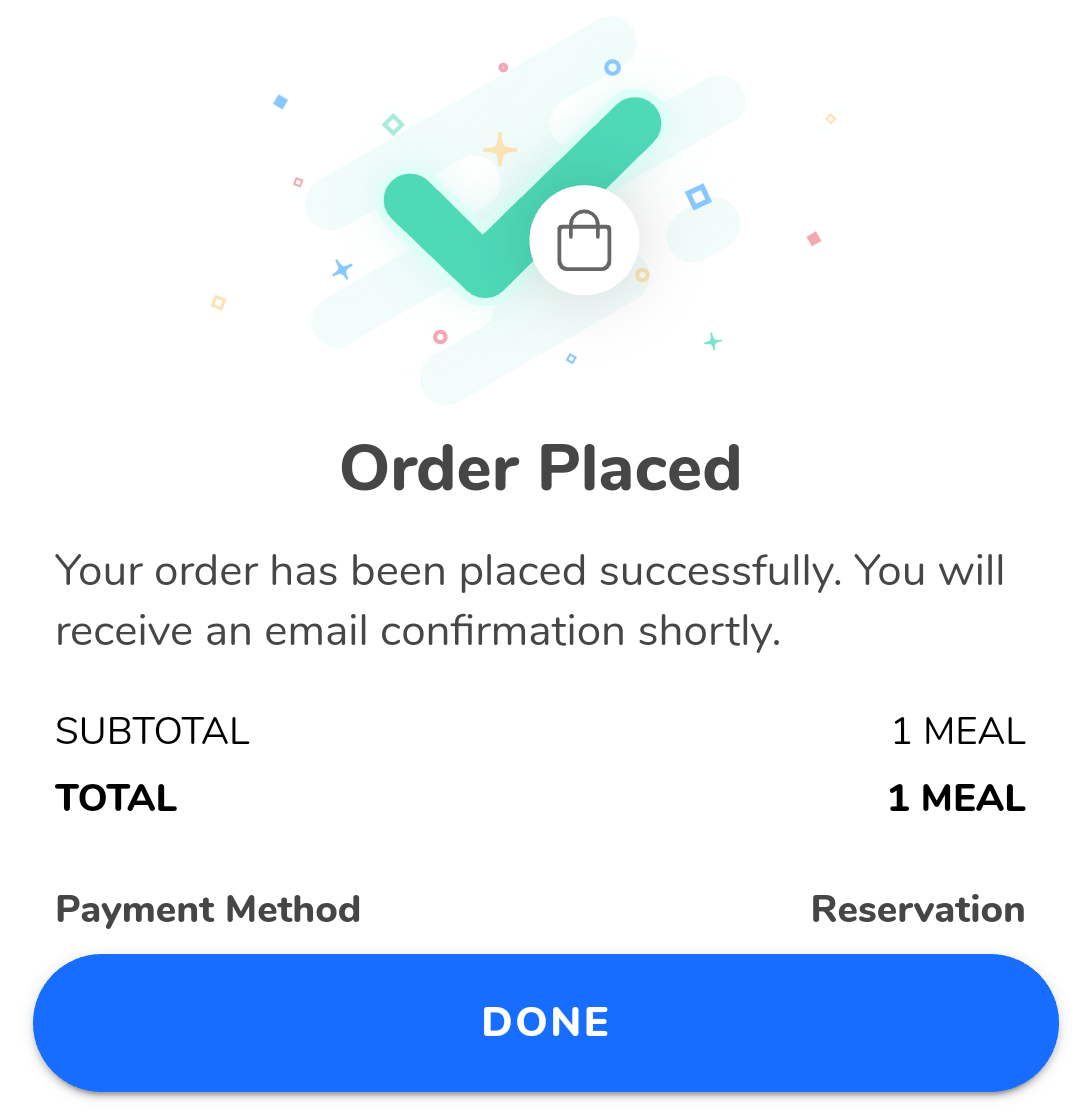 12. You are done. Just tap on the Done button. You will receive a confirmation email. Please arrive to C3 - Crossroads Culinary Center 5 minutes prior to your reservation time. Have your GET app open to the Transaction page. A checker will verify your meal purchase or reservation transaction and direct you from there.
Instructional Video
FAQs
How many Reservations can I make for each meal at C3?
Each person can make one reservation per meal at C3. You may only make a reservations for yourself.
Can I call for a reservation?
No, reservations are only available through the GET app. If you have trouble with the app you may use the GET web page to make the reservation. If you cannot make a reservation there are a limited amount of walk-in slots available at the discretion of the staff determined by the required social distancing and space capacity requirements.
Can I make a reservation for myself and a friend?
No, each person needs to make their own reservation. If you are attending with a person that does not have a meal plan or a Reservation plan you should make your reservation and then have them come along as a walk-in. There are a limited amount of walk-ins available per time slot.
How do I pay for my Reservation?
If you have a Flex Plan you will use one meal from your Flex Plan to pay for your reservation. The meal is deducted from your balance 5 minutes prior to your Reservation time.If you have Dining Points you have been given a Reservation plan. That plan resets to 4 meals each day. This plan ONLY reserves your date and time at C3, you will need to pay for your meal when you arrive.
How early should I arrive for my reservation?
We ask that you arrive 5 minutes prior to your reservation. Please do not arrive more than 10 minutes before or 10 minutes after. You will overlap other times and cause issues with the capacity of the queue.
Can I make back to back reservations so I can dine longer?
No. You are only able to reserve one dining spot that provides you 45 minutes to get your food, eat and bring your plates to the river on the way out. You may take a hand held dessert item to go.
Can I take my meal to go?
No. Meals must be eaten in the 45 minute dining block for your Zone. You may take a hand held dessert item to go. You may use a meal exchange at a retail dining location for a la carte purchases.
How do I cancel a reservation?
Open the GET app. Tap "Start an Order/Reservation". At the top tap the recent orders icon. Look for the reservations (order) you want to cancel and tap or click on the cancel link and confirm that you want to cancel. You may cancel up until 10 minutes prior to the reservation. If you do not see the recent orders in your app you may need to try the GET web page and look for Recent Orders.
What do I do to check in for dinner?
Please go to the Lobby of C3 in Red Jacket 5 minutes prior to you selected reservation time. Open the GET app. In your recent transactions you will see your confirmation post 5 minutes before your selected time. Show that to the checker who will verify the date, time and if you paid using your Flex plan or a Reservation plan. If you used a Reservation plan you will need to purchase your meal. There will be mobile checkers or an area to pay. Please remember to wear a mask and follow all health and safety instructions.
Do I need to wear a mask and socially distance?
Yes.
How do I contact someone with questions?
You can ask a question using our contact page myubcard.com/contact or emailing ub-dining@buffalo.edu.