Green Scene
All about our recycling and waste reduction, energy and water conservation, and ecosystem preservation systems.
Sustainability Blog
Join us as we learn about improving sustainability and implementing changes into our day-to-day operations.
Food & Purchasing
Sustainable Foods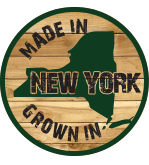 We are proud to support New York State food growers, producers and manufacturers because doing so benefits our state economy and the environment. To help you identify these products that are grown, produced and manufactured in New York State, we created the Made In/Grown In New York icon. We know the importance of helping our community find and choose New York products, so we are focused on building relationships with growers, food artisans, and food manufacturers throughout the state.
When you see the Made In/Grown In New York icon on campus, you know you can enjoy great tasting products that are fresh from the farm, supporting New York jobs and even helping reduce carbon emissions.
We are proud to feature locally grown fresh produce from the following farms: Niagara Fresh Fruits, Kreher's Farm Fresh Eggs, Eden Valley Growers, Piedmonte Farms, Freatman Farms, Robinson Farms, Dobbins Orchards, Bowman Farms and Goodman Farms.
You can find food and beverages on campus from these New York State manufacturers: Great Lakes Cheese, Perry's Ice Cream, Barilla, Battistoni, Al Cohen's Bakery, Father Sam's, Galbani/Sorrento, Golden Cup, General Mills, McCullagh Coffee, Rich's, Rosina Foods, Upstate Farms, Wardynski's, Pepsi Beverages Company, Costanzo's Bakery, Empire Cheese, The Basket Co., Frito-Lay, Chobani, NY Malted Waffle, Midstate Bakery and Red Osier.
To feed a campus this size, we also purchase food and supplies from several large distributors located throughout New York, including: Johnston Paper, Boulevard Produce, U.S. Foods, James Desiderio Produce and Regional Distributors.
More Information About Our Farms
Eden Valley Growers
For over 125 years, W.D. Henry & Sons, Inc., located in Eden, New York has provided fresh produce and flowers. They continue to supply UB Campus Dining with fresh vegetables such as broccoli, sweet corn, green & red bell peppers, and squash.
"We pride ourselves on quality, integrity, and maintaining up-to-date production and food safety practices." — Mark & Dan Henry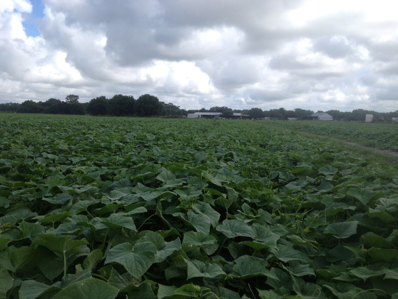 Bowman Farms Inc.
Since 1944, Bowman Farms has operated to provide the best produce for its customers in North Collins, NY. Bowman Farms has produced many ingredients used in our dining centers such as tomatoes, various peppers, summer and winter squash.
"We have made it our mission to provide reliable products and services in our customer-driven approach." — Bowman Farms
Piedmonte Farms
Piedmonte Farms had its start in 1911, now they are located on 3,000 acres of land in Holley, New York. They grow a variety of fresh produce such as green beans, green peppers, tomatoes, and garlic that are delivered to UB.
"We are committed to the development and conservation of healthy soil that will grow crops which are healthier and safer for everyone." — Piedmonte Farms
Sustainable Purchasing
Our napkins, made from recycled paper, are housed in single-sheet dispensers that let you pull one napkin at a time. This system allows you take only what you need, eliminating wasteful piles of unused napkins.
Our resident and retail dining locations are Polystyrene (Styrofoam) free – using only paper-based tableware, many of which are compostable.
Stewardship of ocean resources and supporting sustainable aquaculture is critical for long-term viability of our seafood supply. Campus Dining & Shops is dedicated to ensuring that all of the seafood we serve is caught or raised sustainably.
We do not use any endangered fish or any type of endangered seafood.
Click below to view the full resolution PDF