Your UB Card
The UB Card has a new look!
Your existing UB Card with the original design remains valid. You do not need to replace the original card unless you wish to use the preferred/chosen name or need the smart card features.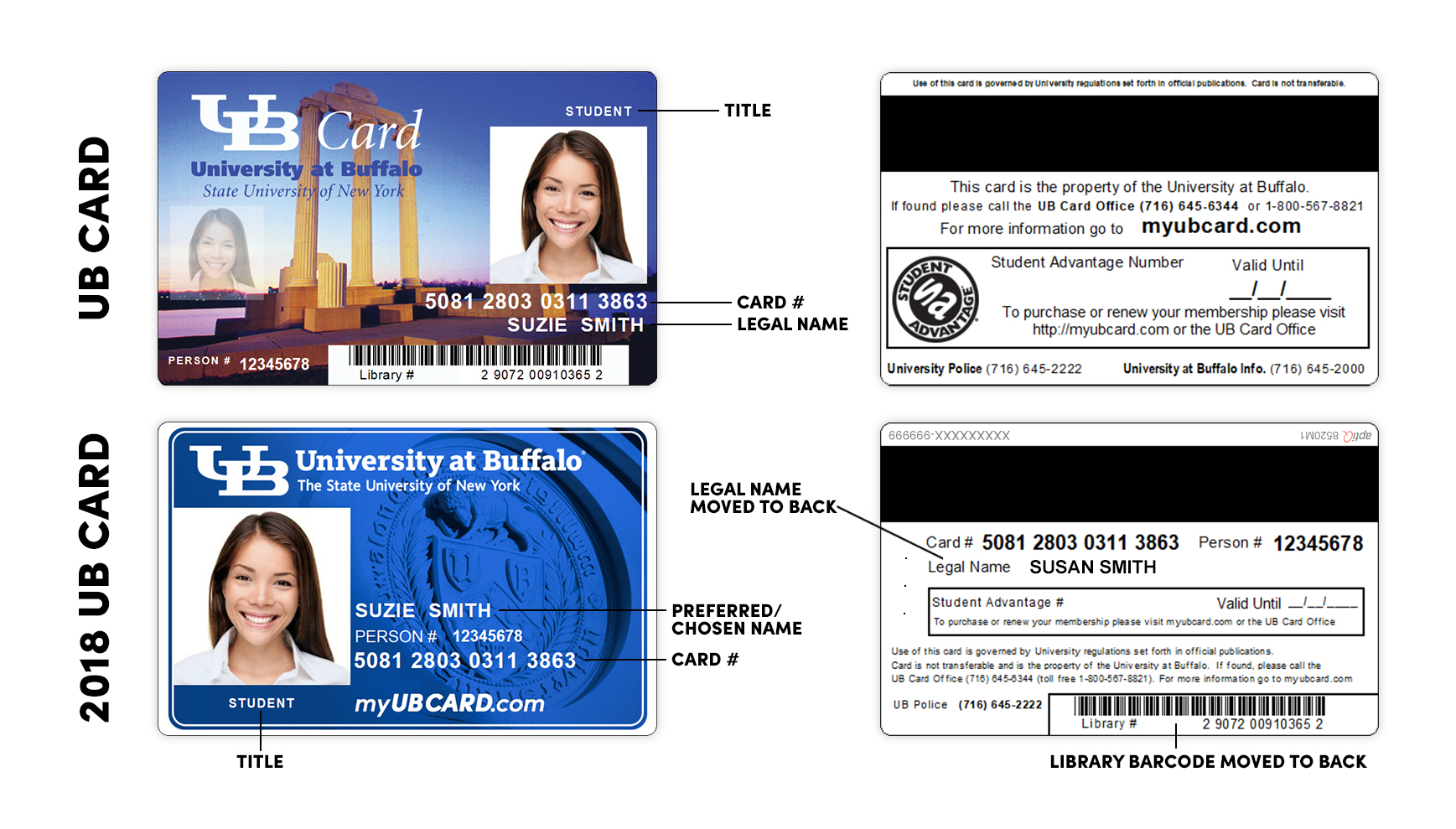 All newly printed UB Cards will have the new design.
All new students will be issued smart cards.
New faculty and staff (receiving their first card) will only be issued smart cards as needed based on their role or office location.
You may exchange your original card with a new smart card based on the schedule of fees.
Do not punch a hole in your card. The smart cards contain a passive ID chip. They do not have a battery and can only be read by close proximity or tapping an appropriate reader. The chip only contains a card serial number and ID number. There is no personally identifiable information on the chip.
Preferred/Chosen Names
UB allows students to enter or edit their preferred/chosen first names in HUB, and this name will appear on the front of your UB Card. Your legal name will appear on the back of the card.
If you would like a preferred/chosen name to appear on your UB Card, please visit the Office of the Registrar's Preferred/Chosen Name webpage for instructions on how to enter or edit your preferred/chosen name in HUB. To provide sufficient time for us to process the change, please wait 24 hours after submitting your preferred/chosen name before visiting the UB Card Office at 1Capen to obtain your updated UB Card. You may contact the UB Card Office in advance to ensure the update has been completed at ubcard-info@buffalo.edu.
If you are attending a UB new student orientation, please ensure that you enter or edit your preferred/chosen name in HUB at least five days prior to your scheduled orientation as UB Cards are printed and prepared for students ahead of time.
Students who currently have a UB Card may purchase a replacement card with their preferred/chosen name. The Office of Equity, Diversity and Inclusion (EDI) will cover the replacement cost for students who require a new UB Card in order to accurately reflect their gender identity. Please contact EDI at (716) 645-2266 or diversity@buffalo.edu for approval of this payment.
For more information, visit our UB Card Preferred/chosen Names FAQ page.